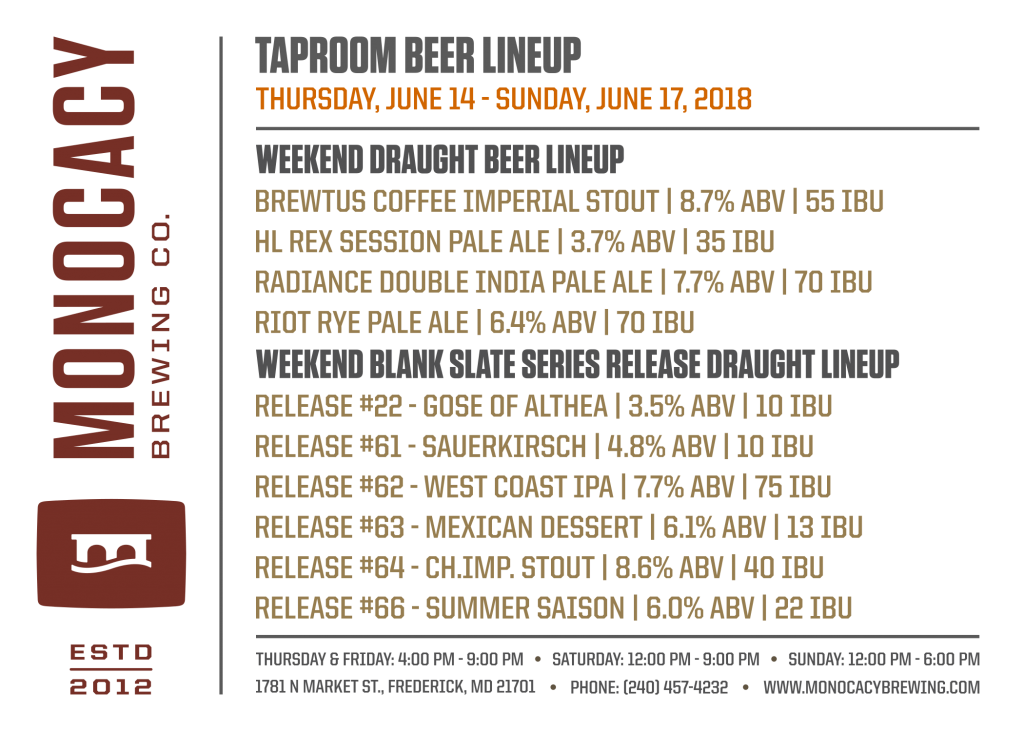 We invite you out this weekend for a tour, a few beers, and to take home some Crowlers from your favorite local brewery. Carryout sales start at 4:00 pm on Thursday, 14 June, 2018 through Sunday, 17 June, 2018. We have tours scheduled this Saturday from 12:00 pm to 4:00 pm and you can sign up for a tour in person at the brewery or reserve your space now via our Events page. Swing by and enjoy a few pints, get your growlers filled, or grab bottled varieties of carry out beer.
Tapping Updates:
Re-Release Blank Slate Series # 62 – West Coast India Pale Ale
Blank Slate Series # 66 – Summer Saison
Next Up:
Blank Slate Series # 67 – Words & Phrases New-School IPA
Upcoming Events and Featured Food Trucks:
Brewery Tours – this Saturday (12:00 pm – 4:00 pm)
Events:

Westminster Beer and BBQ Stroll | Saturday, June 16, 2018
Growler Filling Policy:
During public hours, we are happy to offer growler fills of our draught beer. We'll fill 2L German-style growler glass growlers that feature a swing top. You may also bring your 32 – 128 oz., double-wall, vacuum insulated stainless steel growlers that feature a permanent government warning for a fill. We offer Crowlers and six packs for carry-out. Availability of carry-out package type will vary. If you have any questions about your growler, please feel free to contact us via Contact Us.
Quality beer. It's in our nature.